Salty dishes
Cooked dough ("štrukli") with fresh cheese
2h
Ingredients:
Dough:
» 350 g of flour
» 1 egg yolk
» 30 ml of oil
» 1 teaspoon of salt
» 200 ml of lukewarm water
Cheese filling:
»500 g MEGGLE fresh cheese
» 2 egg yolks
» ½ teaspoons of salt
Sauce:
»1 red onion
» ½ fresh red peppers
» 2 cloves of garlic
» 1 tablespoon tomato concentrate
» 1 bay leaf
» ½ spoons of ground sweet red pepper
» ¼ teaspoons ground hot red pepper
» 1 tablespoon chopped parsley
» Oil, salt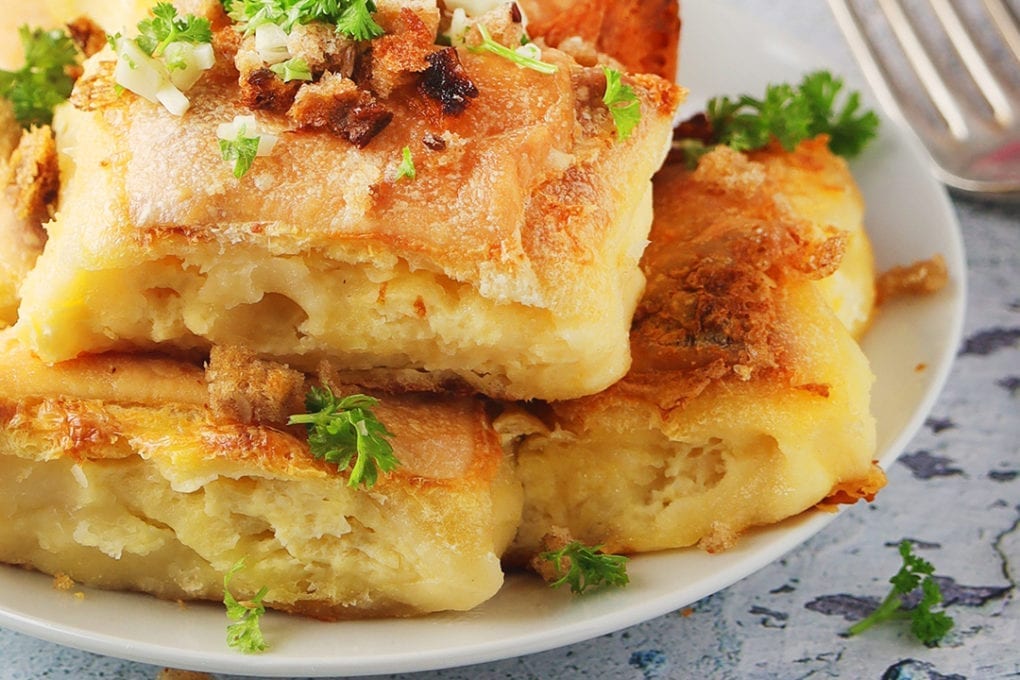 Preparation:
Mix all the ingredients for the dough and knead the drawn dough. Form the finished dough into a ball and place it on a lightly greased plate. Coat the top with a thin layer of oil so that it does not dry while standing (resting) and leave it to stand for 1 hour in a warm place. In a separate bowl, place the fresh cheese, egg yolks, salt and mix the ingredients. Transfer the aged dough to a large kitchen cloth sprinkled with flour and roll it out from the middle outwards in all directions. Cut out the thick edges with a stretched thin dough. Fill the beginning of the dough with piles of fresh cheese at a distance of 10 cm, from left to right.
With the help of a cloth (lifting it from yourself, upwards) we wrap the dough. Press the dough between the stuffed parts with the edge of the palm and cut out the štrukli with the edge of the plate. In a frying pan, fry the chopped onion in heated oil, add diced fresh red pepper, chopped garlic, season with salt, stir a little and simmer over low heat until the vegetables soften. Then stir in the tomato concentrate, add the bay leaf, ground hot and sweet red pepper and mix.
Then we put the prepared fresh cheese štrukli on the sauce, pour enough water to cover the ingredients and when it is done, cook everything together for about 20 minutes on low heat. Just before the end, add chopped parsley, sour cream, stir, let it all boil and we can serve the dish.
Print recipe