Sweet dishes
Easter cake
Ingredients:
Crust (2x):
» 4 eggs
» 3 tablespoons powdered sugar
» 3 tablespoons ground hazelnuts
» 1 tablespoon chocolate (melted)
White filling:
» 750 ml MEGGLE whipped cream
» 2 tablespoons powdered sugar
» 12 sheets of gelatin
Yellow filling:
» 250 g MEGGLE butter
» 4 tablespoons powdered sugar
» 400 ml MEGGLE milk
» 200 ml MEGGLE whipping cream
» 2 bags of vanilla pudding
» 5 tablespoons of sugar
Other material:
» jam (currants, cherries)
» MEGGLE whipped cream (for decoration)
» chocolate eggs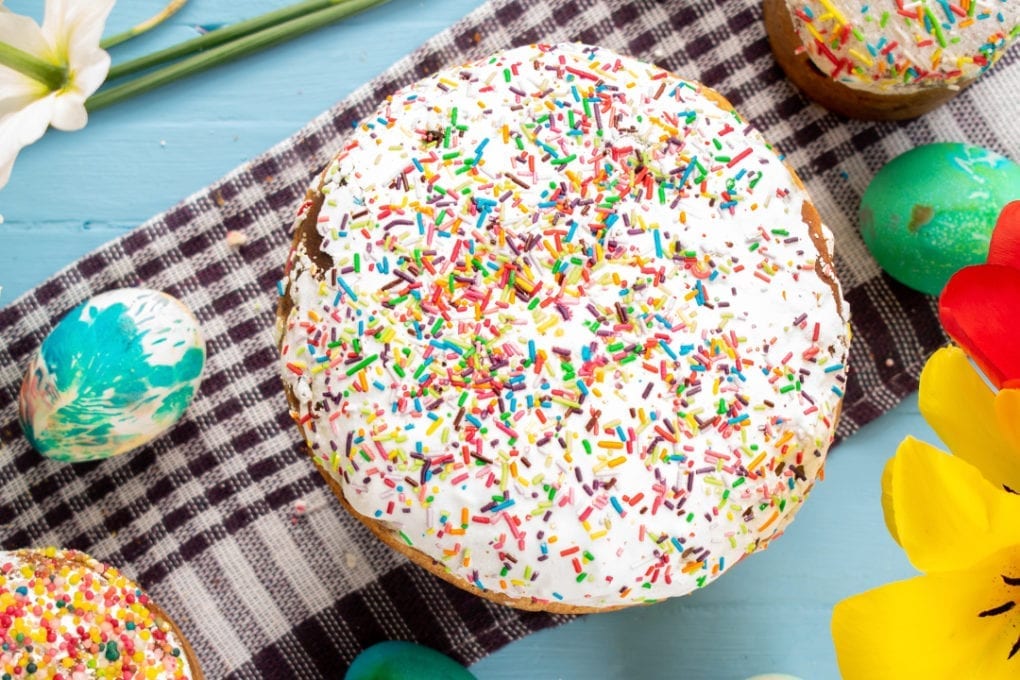 Preparation:
Whisk the egg yolks with the powdered sugar, add the melted chocolate, hazelnuts, and well-beaten egg whites. Whisk the mixture well, pour into a baking tray (which should be 26 cm in diameter) lined with baking paper and place to bake. Bake at 180 ° C for 25-30 minutes. Turn the baked crust on paper sprinkled with crystal sugar, remove the paper on which the crust was baked and leave to cool. Repeat the procedure once more as described.
White filling: Whip the whipping cream with powdered sugar, add the gelatine prepared according to the instructions on the bag, stir and leave for 10 minutes in the fridge. Remove from the refrigerator and apply to the cake.
Yellow filling: Mix pudding powder with sugar and 100 ml of cold milk. Mix the rest of the milk with the whipping cream and bring to the boil. Add the prepared mixture and cook for 1 min, stirring constantly. Allow to cool (stir occasionally). Mix the cooled pudding with the whipped butter and powdered sugar and apply to a portion of the white filling.
Arrange the cake in a baking tray. Coat the cold crust with whipped jam and place in a tray lined with cling film lightly oiled. Apply half of the white filling on the crust, and the rest of the white filling over the yellow. Coat the second crust with marmalade and fold the first. Cover with cling film and place a flat plate and a weight of approx. 1 kg over it. Leave the cake prepared in this way in the refrigerator until the next day. Turn the cake on a serving tray, remove the foil, coat with whipped cream, and decorate as desired. Keep the cake in the refrigerator until serving.
Print recipe